by Paula Griffith
I miss seeing Chanell at the door, waiting for me to come home. She had the most magnetic smile and was the glue that held us together. She was very petite but had the heart of gold. Chanell was fearless and was willing to try anything. She wanted to play basketball; she knew she would not make it, but she tried out anyway. She did not make the basketball team but became a cheerleader instead. She also joined the step team. She was the bubbliest person, a happy child. Everywhere she went, somebody knew her. I wondered, "How do you know these people?" She was a people person. She made a connection with them, and they remembered her.
Most days I do not remember what I ate for breakfast, but the day she died is embedded in my head like it was yesterday. It was the most devastating day of my life. Chanell had spent the day at Six Flags Great Adventure Park that Friday, August 15th, 2008. She returned home on Saturday after spending the night by my cousin's house. When she came home, she relaxed for a while and began to decorate her wall with the medals that she had gotten from school and a poster of Tweedy Bird,  which was her favorite character. That night, she wanted to sleep with me, and I did not let her. This has always been one of my biggest regrets. She was a horrible sleeper and because I was pregnant, I did not want her to kick me in the stomach. Before she left, she talked to my stomach and said she was going to be the best big sister ever.
So, she proceeded to her room to go to sleep. Her older brother was in her room using her computer. He woke me up stating that Chanell got up to went to the bathroom and when she came out, she could not breathe. I tried to calm her down, but she panicked which made her breathing worse. She could not calm down. It is exceedingly difficult to calm a child when they cannot breathe.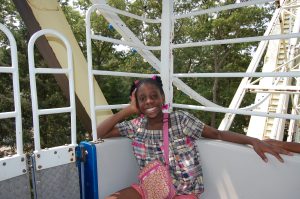 I did not know what to do, but I tried to stay calm for her even though I was frantic. We did not have an EpiPen and Chanell's medication was not working. My son has asthma, and he was starting to panic too. I had to tell him to calm down because I could not have him gasping for air too. Our next-door neighbor who works for the NYPD told me to come outside while her sister came over and tried her best to resuscitate Chanell. We called 911 and prayed the ambulance would come. It took a long time, about ten minutes. Those ten minutes seemed like an eternity.
They told me to stay outside while they worked on her in the house. They stayed in there for a while. I prayed that everything was going to be okay. They then took her to the hospital. They would not allow anyone to go with her in the ambulance. My neighbor took me to the hospital, and when we arrived, Chanell was already in the hospital being worked on. I kept praying for great news.
Finally, they called me into the hospital because I waited outside while they worked on her. So I went into the hospital, they made my family go into a room to talk to us and that gave us hope. I thought they were going to tell us she made it. I did not realize they were taking us there to tell us she died. I thought "Why did you take us into the room and tell me that?" My son was terribly upset, he punched the wall, "Why would they bring us into the room to tell us this? They could have left us where we were."
The doctors told us they worked on her, but they were unable to resuscitate her. The death certificate says she was DOA – dead on arrival.
Chanell died almost 14 years ago. She was 11 years old.
I like to believe that she overexerted herself at Great Adventure. She was climbing on the rocks, and I believe the altitude was too much for her. The autopsy results were while she slept, her lungs filled with fluid and that is what caused the asthma attack.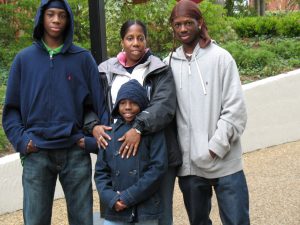 Two years before she died, Chanell had an asthma attack and was hospitalized and intubated. I went to visit her, and she told me she wanted to go home. She was so upset about not being able to go home that it brought on a worse attack. I was pushed out of the room, and all she heard was CODE 99. They were able to save her. I now realized how fortunate I was to have had those two years with her.
A few days after she died, Chanell came to me in a dream. She told me she was going to be okay. That I did not need to worry about her. She quickly left because she said she was sneaking to see me. I recently had another dream about her. She came to tell me she was fine and to stop worrying about her. I asked her, "Why don't you just come back?" And she said, "No, I am with my father." She hugged me and then went through a door. I could not find her again but seeing her comforted me. I believe when said she was with her father, she was with the Lord.
I have now developed asthma but did not when it killed Chanell. I had some sort of an attack a few weeks after Chanell died at my friend's house. Her house was dusty from construction, while I was pregnant and had to calm myself when I started to panic. In that moment I wondered, "Is this how Chanell felt?" It was a horrible feeling.
My new baby came early. Her due date was in October, but she came just a little over three weeks after Chanell died. The excitement and miracle of a new baby was wonderful, but the heartache of losing Chanell was devastating. At one point, I felt like I was dying. People do not understand that though I had other children, the loss of one was crushing. I tried to be happy for my new daughter because I did not want to stress her out. She absorbed my pain and expressed it for me.
Advice I Give Myself:
Be grateful. Gratitude carried me through.
Remember the time you spent with Chanell and believe she knew I loved her.
Recovery is not going to be an easy road, but you will live. Do the best you can and keep yourself healthy. You will be happy and feel joy, but your life is forever changed. You are never going to be 100 percent again. Twenty percent of who you were is gone.
I should have been rolling on the ground crying, broken with tears, but I never got to express it because I was pregnant. I had to be a mother to my sons and new baby, go to work and into the real world. I carried my grief on my own. I internalized it. People would see me and say, "You're so strong." And I think, "Really? I do not express it to you. You do not know how I am feeling."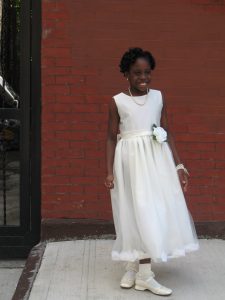 I promised Chanell I would get my degree. I was nineteen when I became a mother, so I wanted to set the bar high for her. I kept my promise and went on to get my master's degree. When I graduated, I placed her picture under my cap to have her close to me that day.
Her death changed my life, I am not where I am supposed to be. At times I go back to the moment she died and understand the piece I feel missing from my life. Before she died, I had the world. I was productive and organized, doing everything the most, but then my world came crashing down. After she died, I stagnated. I started to wonder, "What is my purpose? Am I lost? What is holding me back?" Then I think, "God, I hope she doesn't think I'm a failure."
For years, I only left my house to go to work. I am West Indian; we like to party and have an enjoyable time. But I was not doing any of that. My girlfriend said, "Come on, go out with me." I was not sure, but I went out. After that, I did more things. It helped to get out of the house, being there can be heavy because it is the place where she died.
I found after her death; my tolerance level was zero. I went to therapy because I was angry and needed someone to talk to without being judged. It helped.
Sometimes, I still think, "God, why? Why me? Why did this happen to me? Why her? Why her? Why her?" There are many people who are not happy with their lives. Why take her? A child so bubbly and happy? But there are no answers to these questions, so I go on with what has been served to me.
For more information about Paula, you can check out her website.
Support us by driving awareness!
Subscribe to our YouTube channel at YouTube.com/GrapGrief.
Follow us on Facebook at Facebook.com/GrapGrief and on Instagram at Instagram.com/GrapGrief.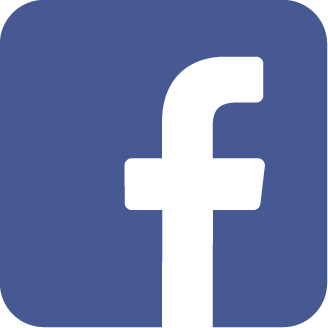 The Grappling with Grief Facebook discussion group is a safe place to share your story and interact with others.
Join Here