by Angela Suttner
The night of December 21, 2016, my family's life forever changed. We lost our son, Kenneth Louis Suttner, to bullycide. My husband and I planned our child's funeral three days before Christmas. Kenny was only seventeen years old, and it made national news.
Nearly six years later, I still think about those days and wonder how we got through them. The only answer is by the grace of God, family, and friends. I have some memory loss from those first few days from the shock of true heartbreak. I couldn't fathom what we were living through. Our son, our baby, was gone.
That first Christmas was excruciating. My husband and I did our best for our remaining children. Kenny would have insisted that his three brothers have a good holiday. Even though we tried, it was just too painful. Never in my life had I been so happy to pack up our Christmas decorations. Seeing Kenny's gifts still under the Christmas tree — the tree that Kenny helped put up and decorate — was torture.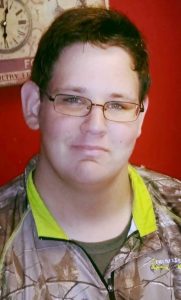 The day after Christmas brought on a whole new level of emotions. I started to feel so much rage! I was so angry that my son was gone. He wouldn't celebrate his eighteenth birthday; he wouldn't graduate high school; he wouldn't become a nurse like he aspired to be. I wanted every person who bullied my child to death held accountable! Kenny was the kindest, most loving and most empathetic person I will ever be blessed to know, and he was my son. He gave the best bear hugs. He loved animals, children, and reading. He loved his family so much and his brothers were his best friends. Our lives were torn apart.
During those first few months, I was not living. I lost forty pounds rather quickly and became so weak I rarely left my bed. I no longer cared whether I lived or died. A piece of my heart and soul left with Kenny. How could I go on without all of my children? It was — and is — so unnatural and so unfair.
After months of barely hanging on, I started to read through the hundreds of condolences I received on Facebook from strangers all over the world. There was one that is still so clear in my mind. It was from a young girl who was concerned about her little brother being bullied. My heart broke for her. She needed help and came to me. It was that message that got me out of bed and made me realize there's something I can do to honor our son.
I spent most of my time reading and researching bullycide, and I realized there was so much I didn't know when it came to handling bullying in school and the workplace. But now, I can offer that information to those in need. I have a job to do now in honor of our son. I work diligently to spread awareness and prevention against bullying and suicide, which includes attending Out of the Darkness walks to support suicide prevention.
We've raised funds, I've attended a workplace violence prevention symposium in Orlando, and I talk very openly about my son's story in the hopes that his death will help save a life. I get messages from parents all over the world who need support, tips, and tools in helping their bullied child. I didn't have these resources to help my son, so it helps my heart to know I can help someone else's child. I also maintain a blog where I share my journey on this path of grief; it helps me, and I hope it helps the many parents who struggle with the grief of missing their child.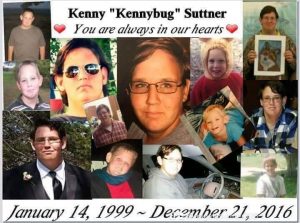 In 2020, I decided I wanted to tell Kenny's story on paper. It was a very difficult process. There was a lot of heartbreak and tears as I relived the worst time in my life, and some days I wasn't sure I would be able to write it. I had so much hope that this book would find its way into the hands of anyone who was being bullied, or a grieving parent who needed to know they were not alone. I felt deeply that Kenny's story would help others. I pushed through with the help of my great friend and co-author, Lindsay Schraad, and we released it in October 2020.
Where The Trail Ends: The Kenny Suttner Story has been out now for almost two years now. We have received some very positive feedback and won Honorable Mention in a Writer's Digest contest. Knowing we have helped people is what matters most! Kenny will never be forgotten, and his story will continue to help others. I pray he is proud of what we've been able to accomplish so far in his honor. This gives me some solace.
My grief is a part of me, and always will be because I will continue to love and miss my son every day of my life. I've stopped fighting with my grief. I allow myself to go through each phase, whether it be depression, denial, or certain times of the day when I'm simply emotional. I have some days where I'm okay and days when I'm not, but that's part of the journey. I am constantly aware and acknowledge where I'm at in my grief, and that allows me to grieve with some grace. I always find my way back.
Parents who have lost a child are living through the most unnatural and unfair agony known to humans. We don't expect for you to know the right words to say to us. Before we lost our child, we were just like you… it was unimaginable to think about. Now it is our life.
I will always advocate kindness and acceptance. I will always advocate against bullying.
I will always spread suicide prevention and awareness information.
For more information about Angela, you can check out her website.
Support us by driving awareness!
Subscribe to our YouTube channel at YouTube.com/GrapGrief.
Follow us on Facebook at Facebook.com/GrapGrief and on Instagram at Instagram.com/GrapGrief.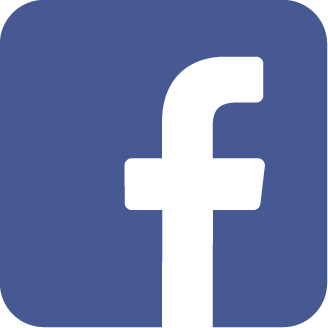 The Grappling with Grief Facebook discussion group is a safe place to share your story and interact with others.
Join Here